And so we meet again!
Fresh pot of coffee brewed to perfection...French Vanilla Creamer, of course!
And 2 little munchkins running circles around me, screaming with JOY (kind of).
So if we were really sitting together for this little chit chat, I would tell you that I have a confession to make...
I have been such a slacker lately...
I am a BLOGGIE SLACKER!!
I don't know why, but I feel so over whelmed this month and I have been lacking in the post department. I have been good about my weekly posts, Weekend Rewinds and Thankful Thursdays... But everything else has fallen to the side and I kind of feel lame about it!
I know I don't have that many followers, but I know that their are regulars that read and comment and I am sure they are thinking "WHAAAAAAT!?"
Like seriously!
But I am trying to get all my posts organized so I can start busting them out like a MAD WOMAN!
On another note..I am in the process of organizing and redecorating my craft room!
I have a GIANT hutch that houses all my goodies, which I really love. But I feel like because it is so big, I don't even use it cause it also takes away from my kiddies play area... Did I mention that my Craft room is also a (slash) Play room...
Long story short, I am selling my amazing hutch and my Hubs is going to make a desk/craft table to go along the wall. Then shelves and other Pinterest ideas for storage on the walls. In doing this I have started purging out all my stuff, which is kind CRAY CRAY!! Convinced my self that there is no point in housing things that I know I will never use.
And I am still working on my jewelry!! I have my new Etsy shop set up and a Facebook page ready to go for the launch! I am hoping to do the unveiling in October!! Kind of excited for the name!!
I racked my brain for days, but what I came up with is kind of AWESOME if I say so myself!!
Enough about me, if we were having coffee this morning what exciting things would tell me...
SPILL!
What I Wore Thursday: New Steve Madden Boots &
Paper Cloth & Denim Top
Sassified my life a little!!!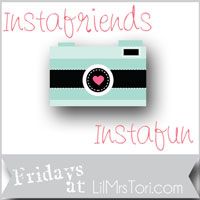 Lil Mrs Tori's Instafriends Instafun
Hope you join me next Friday!!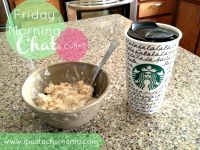 Have a GREAT Friday & FABULOUS weekend!