So here's today, Thursday September 13th, 2012...
Two days after September 11th, 2012...
11 years after September 11th, 2001...
Here I sit so very thankful...
No, I am not thankful that this happened at all.
Actually, just the thought of that day angers me and brings me to the brink of tears. That day will forever be burned into my mind as a day to remember all the innocent people who lost their lives to such horrible events that were meant to shake and bring down our country.
Events that led to War to fight for our FREEDOM and bring justice to those responsible for these attacks on our nation. I think a lot of people lose sight this, brainwashed by the media and what they want you to believe. (I will stop right there with politics, to each his own and what you believe).
This is what brings me to tell you what I am thankful for...
I am thankful for the BRAVE Men & Women who selflessly put their lives on the line everyday to ensure that our safety is upheld! Those who have fought and lost their lives, fight for what they believe. Their Families who wait at home, not knowing if their loved ones will return alive or even at all...
These people are truly HEROS!
I am so very thankful everyday for what they do. Protecting our Country, fighting for this Nation!
Ensuring that we can safely tuck our little ones in bed every night, while they read letters from home missing their families.
War comes with a price, I know.
But not every one can go do what these Brave Military Men & Women do.
It takes a TRUE HERO to put their life on the line and not think anything of it.
I am so thankful everyday for those who have SERVED, FOUGHT, & continue to FIGHT everyday.
I also give thanks to the families at home! I pray everyday that your loved ones return home to your arms safely!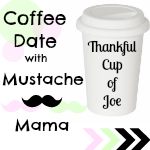 Don't forget to link up you Thankful Thursday post
Thankful Thursday Coffee Date with Mustache Mama
Some time ago, I signed up to become a Soldiers' Angel. Soldiers' Angels, for those of you who don't know, is a non-profit based group who provide aid and comfort to the men and women of the United States Army, Marines, Navy, Air Force, Coast Guard and their amazing families. They provide support to veterans, wounded and deployed in various ways.
Check out their website to find more ways to help:
Soldiers' Angels
I joined and became an Approved Angel, which means that I officially signed up to help any way I can. So in the wake of the 11th Anniversary, I decided to
Adopt A Soldier
. I am basically becoming an Angel (pen pal/friend) with a deployed soldier for the remainder of their deployment.
I did this once before and look forward to communicating with my new Soldier.