It's FRIDAY...
I feel like these last few weeks have been zipping by, to fast actually. And it seems like there is never enough hours in the day or days in the week to get everything I want accomplished!
So much going on and having so much fun doing it all.
So since this is a little morning chat we are having, might as well dive right in to the good stuff. Of course I am enjoying some (cold) coffee in my infamous "Instagram" Mug as I like to call it. (I have a feeling you know what Target mug I am talking about too).
Made the kids and myself some pancakes...Although now I am munching on SunChips, kind of my new FAVE right now!! And The Lorax is blasting in the background (Watch Count: 10) The kids LOVE this movie! And yes, you can catch me singing along to the catchy songs...Whaaat?! They really are catchy songs...
Went to work at the store yesterday. I actually jumped the gun on this whole Fall thing and busted out my boots!! Yes, it was about 85 degrees, but wardrobe has been begging me to kick it up a notch!
SO I DID IT!!! And LOVED it!
I actually think I am going to wear them to work tomorrow too! REBEL!
In some more exciting new...I am so excited to being to close to revealing my whole jewelry launch!
Getting everything together. Got a cute little stamp for my tags and working on some new branding photos.
I literally could pee my pants with excitement!! But I wont, cause that would be weird!
So keep your EYES & EARS open!!!
So now let me ask you...How was your week?? Busy??
Do you have any fun plans for the weekend???
Today I am linking up in a few places
Enjoying some coffee and watching her VLOG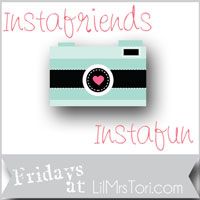 Linking up to her Instafriends Instafun Instagram & Blog Hop
Ashley at Little Willow Tree blog is hosting a Sew Swap!!
If you are interested in joining, you still have time!! Sign ups close Sunday Sept. 9th
Hurry on over!! And if you haven't checked out her website yet, DO IT!!
She has so many great tutorials!!
Plus we also found out that we live about 20 minutes away from each other!! Definite get together in the near future!!