BOOM!
WEEK 5!!
It's Thursday, you know what that means!!
Thankful Thursday Coffee Date!
Thank you all so much for sharing every week!!
You are all so awesome with your posts! We seem to be getting more links each week!!
This is meant to be fun and give you a moment to just think of everything that is going on around you and sometimes it's just those little things that we take for granted!
I hope you will join me this week and link up!
If you don't have time to write up a post, I know everyone gets busy, feel free to link up an old post that shows something that you are thankful for.
Don't for get to grab a button to share on you blog!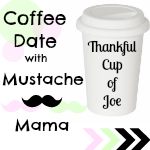 Here's how it works:
1. Make sure you are following your Host Heidi, Mustache Mama.
2. Link up your blog post to share with everyone (Just the post and not your blog)
3. Share this Coffee Date on Twitter & Facebook after you link up
4. Head over and read what others have shared on their blogs and enjoy an nice cup of coffee or tea at the same time!
5. Grab the cute little button too to post on your bloggie if you would like
And most importantly, Have FUN!!!!
InLinkz