I am so EXCITED to announce the GRAND OPENING of my etsy shop!!
I am a little nervous, I have no idea why really. Probably because it's all real and EVERYONE can see what I make now!
So as of now I just have my headbands that I have been hoarding for months now!!
If you follow me on Instagram you have seen some of the jewelry that I have made, some I have already sold in fact! I plan on selling it all in the shop as well! I only had a limited amount of supplies just so I could play around, but the reaction I got from just those 3 pieces has been so incredible and motivating to continue to make more!
I have ordered more fun supplies to make more necklaces, bracelets and earrings. I might just take me a little time to get it all made and posted, so please bare with me!
I am so excited for this little adventure that I have been dreaming of doing for years now!! It's all finally happening!
ENJOY!!!
I am also Linking up with Lil Mrs. Tori's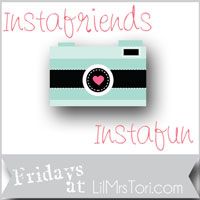 Go check it out and meet to Instagram Friends!