Hey everyone!! It's another post for Thankful Thursday!! Don't for get to link up to my little
This post will be linked up there too!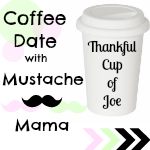 So this week I was trying to find something to write about. There are many things that I am always thankful for, but I wanted to find something special to share. And that's when this little moment happened!
There was a time when I thought that they, well mainly her, would never like each other! I was actually worried about it! Afraid that they would grow up with no relationship at all. I know that sounds silly, but it did cross my mind. I even asked the pediatrician, not our normal one thank goodness, if all this was normal and her response was "Well that's what you get for having them so close together!" UUHHH...
But lately, there has been a glimmer of hope! They actually in fact not only like each other, they LOVE each other!! YAY!! Watching them all day long interact brings me just pure joy! And I am so thankful that they have each other, especially when they grow up in to young adults.
This Little Moment just melt my heart! He truly loves and cares for her and I think the feeling is mutual towards him!