Join me for some coffee every Thursday and share what you are thankful for that week. Write up a little post about something that you have been feeling thankful for this last week. Enjoy a nice cup of coffee and head on over to read what others have to share.
Here's how it works:
1. Make sure you are following your Host
Heidi at Mustache Mama
2. Link up your blog post to share with everyone (Just the post and not your blog)
3. Share this Coffee Date on Twitter & Facebook after you link up
4. Grab a cute little button for your side bar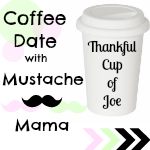 5. Head over and read what others have posted on their blogs and enjoy an nice cup of coffee or tea.
And most importantly, Have FUN!!!!